Matching on Sustainable Development Goals, the future of the destination selection process for association conferences?
Published November 07, 2022
Krakow, Poland (November 8th 2022) – Today Conferli is happy to release the latest development of a practical new feature that helps associations get matched to a city that focusses on the same Sustainability Development Goals and therewith enhance the possibility to contribute to creating a positive impact/ legacy of a conference.
Now conference planning is back on track for associations there is a much being said about topics such as legacy and sustainability.
However a recent study conducted by Conferli shows that sustainability and legacy are still not considered as serious decision making criteria when selecting a destination for a conference.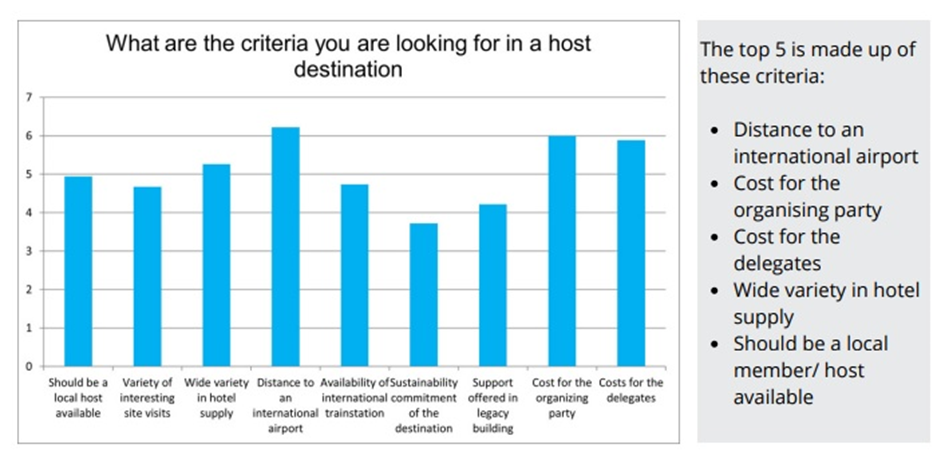 New Feature
Triggered by this outcome and convinced by the idea that only together we can improve this, Conferli decided to investigate why these factors are still the least important in this specific decision making process. Why is it not top of mind when making important decisions, that affect the entire association? Recent conversations show that these topics are so general, political sensitive and strategic, that organizations have no idea where to start and how to implement it into their process.
With understanding this, Conferli felt the need to offer support and make it possible to easily start implementing this into the process of the destination selection. It was an easy step to build a new filter, to the existing matching platform, which makes it possible to be matched on a destination's focus SDG's or already achieved SDG's.
Innovation Challenge
With the innovation challenge initiated by ICCA and Response Room the opportunity to test the idea was presented. Out of the 30 innovations that were presented, the topic "How the SDG's of a city can contribute on a positive impact/ legacy outcome of your associations conference in the host destination", by Conferli, was won with over 30% of the votes. It seems that the market is ready to work with tools that provide a practical solution to work on a more sustainable future for association events.
Conferli is extremely proud to present the new feature live on stage during the ICCA Annual Conference. A new filter has been created in the matching tool which offers associations the option to select destinations based on their SDG's. With this new feature the choice of a destination can make such a difference in reaching goals and creating legacy / impact. The entire reason of deciding why to choose a specific destination can change due to this new option. Reaching specific long term goals can now be implemented in the start of the process and it opens up the conversation with the destination. Imagine how associations and destinations can easily find each other on their common goals and strive together to a better future for all!